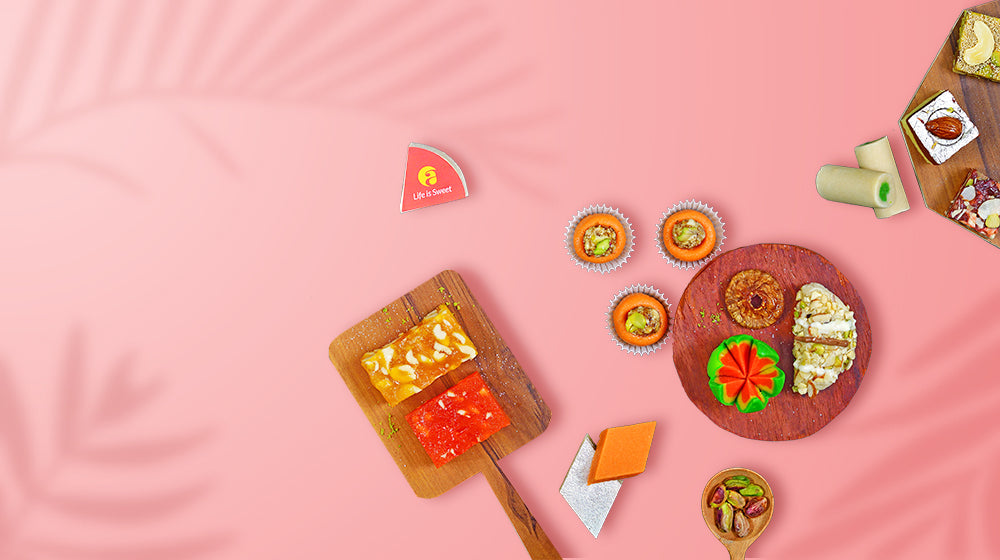 7 Popular Anandhaas Sweets You Should Never Miss
India is a land of diversity, and so are our sweets! 
Most of us have somewhat of an emotional connection when it comes to sweets and stick to our favourite ones. But there are a lot of amazing sweets which require your visit.
Are you a sweet tooth & exploring the world of sweets?
Look no further than Shree Anandhaas, the ultimate destination for indulging in delicious and authentic sweets. They are a prominent name in the world of sweets and savouries. 
With a delicious taste and superior quality, Anandhaas sweets have been enjoyed by millions of people since generations.
From mouth-watering halwas to delectable laddoos, we've compiled a list of our 7 most famous sweets that are sure to satisfy your cravings. 
Kaju Katli - No one can say "NO" to this sweet!
Taste the goodness of cashews in every bite with Shree Anandhaas State-of-the art kaju katlis. Premium quality cashews ground into a paste and then formed into diamond-shaped pieces of happiness and served. 
Kaju Katli is often served at weddings and other special occasions and is a sweet which is loved equally in all age groups.
This diamond-shaped sweet is one of the most popular sweets in India, and the Shree Anandhaas version is mouth-watering. The cashew flavour, combined with the soft texture, makes this sweet irresistible.
Ghee Mysore Pak - Tradition comes home
!
This sweet gets its name from the Royal Kitchen of Mysore. It is one of the most simple and delicious sweets made with pure ghee, premium quality Besan, Sugar, and Milk powder. 
This amazing sweet has a texture that is both crumbly and fudgy and a taste that is rich, buttery, and delectable. No trip to Anandhaas is complete without trying this legendary sweet.
All the sweets at Shree Anandhaas are made with only high-quality ingredients and have an authentic taste that is difficult to resist.
Take a bite of their most popular Ghee Mysore Pak and get to experience the authentic South Indian flavour. Famous for its original flavour and great taste, this sweet is omnipresent in all social functions and celebrations and is made out of 100% natural ingredients.
Ghee Laddus - A trip down memory lane!
A traditional Indian dessert, the laddu or laddoo is a favourite of many &  is a must-have during festivals and special occasions. Among the many variations in laddus, the Shree Anandhaas Famous Ghee Laddu stands out, thanks to its irresistible taste and the highest-quality ingredients used in its preparation.
The Shree Anandhaas Famous Ghee Laddu is made from pure ghee, Sugar, Besan, Sugar, Cashew nuts, Dry grapes & Saffron. What makes this laddu stand out is its unique texture and the perfect balance of sweetness and richness.
When you bite into a Shree Anandhaas Famous Ghee Laddu, you can instantly taste the rich, buttery flavour of the ghee. As you savour the laddu, the gram flour adds a nutty, roasted flavour that perfectly complements the sweetness of the Sugar. The laddu is soft but not crumbly, and melts in your mouth, leaving a pleasant aftertaste behind.
Mundhiri Halwa - Happiness comes in square shapes!
Shree Anandhaas takes great pride in their Mundhiri Halwa, which is made in small batches to maintain the high quality and consistency of the dish. Customers from all over Tamil Nadu visit their shops to taste and purchase this legendary halwa.
Mundhiri, also known as cashew nuts, is the star ingredient of this sweet dish. Other ingredients include high-quality corn flour, Sugar, and pure ghee. 
The cashew nuts give the halwa a rich, nutty flavour, while the Sugar and ghee add sweetness and richness to the dish. The texture of the halwa is smooth and moist, making each bite a delight for the taste buds.
Karupatti Mysore Pak - A healthier touch to traditions!
One of Shree Anandhaas popular sweet delicacies is the Karupatti Mysore Pak. This traditional dessert is made with a blend of pure Ghee, Cashew nuts, Besan & Karuppatti(Palm jaggery), which lends a unique flavour and aroma to the dish.
Originating in the city of Mysore in Karnataka, this sweet treat has since spread across the southern states of India, finding a place in the hearts of sweet lovers all over the region.
What sets this dessert apart from the traditional Mysore Pak is the use of Karupatti. This natural sweetener is healthier than refined Sugar and is believed to offer numerous health benefits.
People who avoid Sugar or cannot have them can go for this healthier version of Mysore Pak.
Apart from its health benefits, the use of Karupatti lends a distinct flavour to the dessert. The sweetness is complementary to the nutty undertones of gram flour and the richness of ghee, resulting in a flavorful and aromatic dessert that is hard to resist.
Kaju Rice Laddu - Shree Anandhaas own creation!
A renowned name in the field of sweets and savouries, Shree Anandhaas has produced some of the finest delicacies that are loved by people all over. One delicacy that has gained immense popularity over the years is their Famous Kaju Rice Laddu.
The Kaju Rice Laddu is a perfect blend of cashews and pure ghee, Sugar, rice balls, & white chocolate. These ingredients complement each other well and add a rich, creamy, and crunchy texture to these kaju rice balls. This sweet has a unique taste not found in any other sweet. 
Shree Anandhaas has maintained the quality of their Kaju Rice Laddu over the years. They use only the best-quality cashews and rice flour. The laddus are made in a hygienic environment under the supervision of experts and have won the hearts of people all over. It is a perfect blend of cashews and rice flour, and its unique taste has made it a favourite among sweet lovers. A bite of their Kaju Rice Laddu will leave you wanting more.
Badam Mysore Pak - Happiness in every bite!
Regarding traditional Indian sweets, Badam Mysore Pak is one of the most popular choices. Made with premium quality Almonds, Pure Ghee, Sugar, Cashew nuts, Besan, and Saffron, this sweet is a perfect blend of nutty, sweet, and rich flavours. When made by the experts at Shree Anandhaas, it becomes a sensation for the taste buds.
Shree Anandhaas Famous Badam Mysore Pak is known for its unique taste and texture, resulting from the pure and authentic ingredients used in its preparation. 
Shree Anandhaas has served its customers with the finest quality sweets for over four decades. Their commitment to using pure and authentic ingredients and preparing them with utmost care and diligence has made them a favourite among sweet lovers. Their famous Badam Mysore Pak is no exception. 
Shree Anandhaas has been serving deliciousness since 1988 and is one of the top sweet outlets in Coimbatore. They prepare all its sweets with great passion, dedication, and care, with recipes passed down through generations. 
All of their sweets are prepared in-house under stringent quality control measures, ensuring every bite is as good as the first.
The traditional Indian sweets served by Shree Anandhaas are like a burst of happiness in the mouth of anyone who tastes them. So, indulge your sweet tooth in the beautiful world of Shree Anandhaas, and take a blissful journey into the world of traditional Indian sweets.
You can also order their sweets online. They use customer-specific packaging using MAPtech, which ensures that the sweets reach you in the best condition with their aroma and quality intact. 
So, next time you're in the mood for something sweet, give this traditional Indian sweets outlet a try.
---