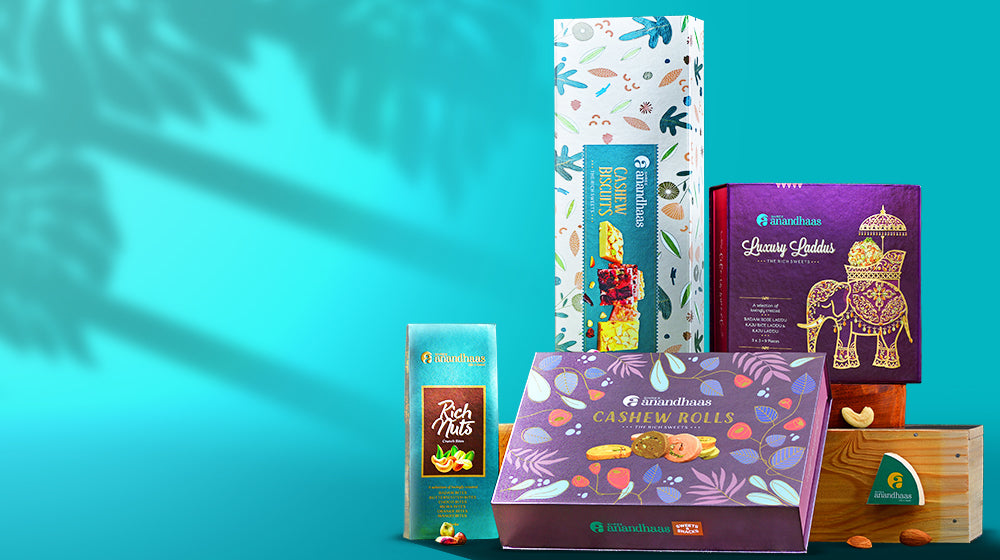 9 Best Indian Sweets For Gifting
India is known for its diverse & delicious range of sweets and savouries. These sweets, or mithais, are not only a treat for the tongue but are also an essential part of Indian culture.
From Kaju Katli to Mysore Pak, there is no shortage of delicious Indian sweets that can make perfect gifts. 
Be it any occasion or a celebration in India; sweets are a must. 
Therefore, if you are looking for some amazing sweets to gift on a celebratory occasion, you have come to the right place. 
Here, we have compiled a list of the 9 best Indian sweets for gifting that will surely make your loved ones happy!
1.Gulab Jamun
Arguably one of the most popular & beloved sweets of India, Indonesia, and other South Asian countries, Gulab Jamun has held its position as the ultimate comfort food for millions of people. 
The name "Gulab Jamun'' is derived from two Persian words: "Gulab," meaning rosewater, and "Jamun," referring to a fruit that's similar in size and shape to the desert itself. 
These soft and spongy round dough balls have a unique texture and taste. It is moist, fluffy, and has a melt-in-the-mouth goodness making this dessert a sensory delight for anyone who craves something sweet. 


Gulab Jamun continues to be a dessert that is loved and cherished. So, next time you plan on gifting someone special, don't hesitate to give Gulab Jamun a try!

2.Kaju Katli
Kaju Katli is a traditional Indian sweet that is popularly given as a gift on various occasions. 
The creamy and delectable fudge is made from cashew nuts, sugar, and ghee. 
With its delightful taste and texture, Kaju Katli is timeless and has become a household favourite nationwide. This delicious delicacy is an ideal gift for expressing appreciation or gratitude to loved ones.
It is a versatile sweet that people of all ages can enjoy. Its rich and creamy texture makes it an ideal confectionery for those who have a sweet tooth. Additionally, the subtleness of its flavour allows it to pair well with other sweets, such as Gulab Jamun or Ras Malai.
To ensure that the Kaju Katli being gifted is of exceptional quality, it is recommended to buy it from a reputable sweet shop. You can check Shree Anandhaas; they always use high-quality ingredients, and all their sweets taste amazing.
This sweet is a delicious treat that is an excellent gift for any occasion. Its versatility and irresistible flavour makes it a popular item for gifting.
3.Rasgulla
This sweet originated in eastern India and is the perfect gift for any occasion. 
The soft texture of the ball and the sweetness of the syrup makes it a unique and delightful dessert that everyone will love. Whether it's a wedding, festival, or special occasion, rasgulla is an ideal gift. 
So, the next time you're looking for a sweet gift for your loved ones, think Rasgulla!
4.Ghee Laddus
Simple yet delicious, Laddus are one of the most popular sweets in India. They are a mix of flour, sugar, nuts, and spices. 
They come in various flavours, including Besan, Motichoor, and boondi, making them a great option for gifting. These sweets are often gifted during festivals, weddings, or other special occasions as they symbolise good luck and prosperity. 
Laddus are a versatile sweet that can be enjoyed by people of all ages, making them an ideal gift option. So, if you're looking for a unique & authentic Indian sweet to gift your loved ones, Laddus should definitely be on your list.
5.Jalebi
It is perfect for those who like their sweets to have a bit of a crispy texture and a hint of tanginess.
Jalebi is a traditional Indian sweet hugely popular all over the country. This crispy, syrupy sweet is made by deep-frying a wheat flour batter in intricate swirls before soaking it in sugar syrup. The result is a crunchy yet juicy treat perfect for satisfying sweet cravings. 
Jalebi makes for an excellent gift for special occasions like Diwali or weddings. Its unique texture and flavour have made it a favourite among people of all ages. Also, the best part is that it has a longer shelf life than most Indian sweets, making it easy to store and transport. Share the sweet taste of India with your loved ones by gifting them a box of delicious jalebi! 
6.Peda
Peda has been a favourite sweet for generations and is widely gifted during festivals and celebrations. 
Made from milk and sugar, pedas come in various flavours like plain, saffron, chocolate, and even mango. One of the most famous peda varieties comes from the city of Mathura in Uttar Pradesh, where it is said to have originated. 
Peda is a milk-based sweet with various shapes, such as round, oval, or diamond. Peda is considered a symbol of Indian culture and is a perfect gift for any occasion, whether weddings, birthdays, or religious festivals. 
With its delicious taste and cultural significance, this soft and cream sweet is ideal for gifting to your loved ones.
7.Soan Papdi
Soan Papdi, also known as Patisa, is a flaky, crispy Indian sweet made using gram flour, sugar, and ghee.
It is a popular Indian sweet loved by all and has a unique texture created by stretching and folding, giving it a flaky and melt-in-your-mouth texture. Soan Papdi is an ideal dessert to gift your loved ones during festive seasons such as Diwali, Eid, and Holi. It is also a great accompaniment to a cup of tea or coffee. 
It is not only delicious but also looks stunning when presented in a decorative and colourful box. Give this delightful treat as a gift and make your loved ones smile.
8.Mysore Pak
Mysore Pak is a popular Indian sweet originating from the royal kitchens of Mysore, Karnataka. 
Its crumbly texture and rich flavour makes it a perfect sweet treat for any occasion. This sweet is especially popular during festivals and celebrations and is often gifted to loved ones. 
With its rich taste and history, Mysore Pak is a true symbol of traditional Indian cuisine. Whether for gifting or indulging, this sweet is sure to please any sweet tooth. 
9.Bombay Halwa
Bombay Halwa is a popular Indian sweet made with corn flour, sugar, ghee, and cardamom. 
This delicious dessert melts in your mouth with a soft, chewy texture. It comes in various flavours, including mango, pistachio, and rose, making it an ideal option for anyone with a sweet tooth. 
What's more, Bombay Halwa is known for its long shelf life, which means your loved ones can enjoy it for days after the festivities are over. So, make sure to add Bombay Halwa to your list of gifting options.
In conclusion, Indian sweets are an integral part of the culture and make a perfect gift for any occasion. From the spongy Rasgulla to the crumbly Mysore Pak, Indian sweets offer a wide range of flavours and textures. 
So, go ahead and gift your loved ones something sweet that will surely brighten up their day!
---