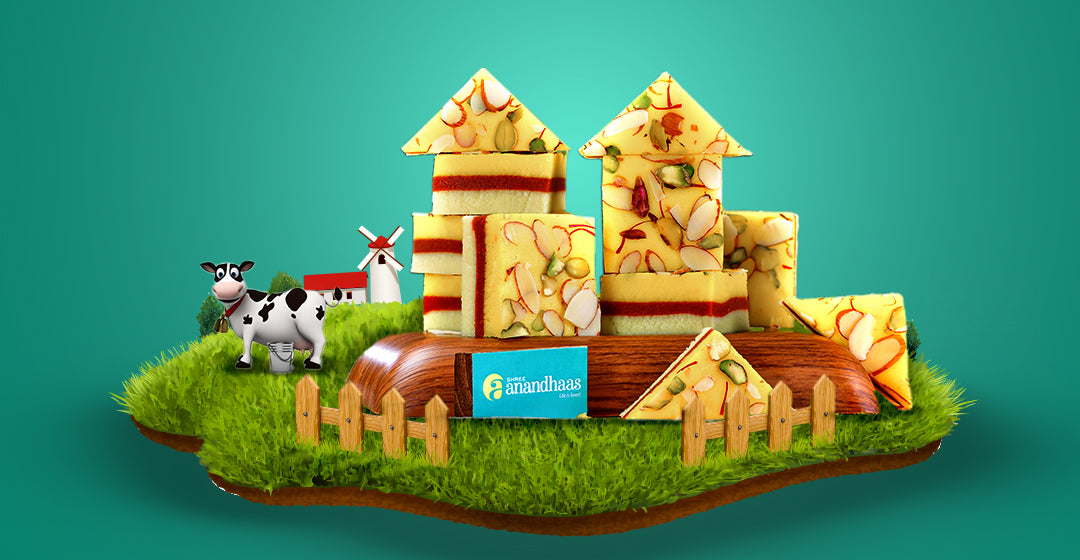 What are the different types of milk-based Indian sweets?
Their unique taste and texture have made them a favourite among all age groups.
From Doda Burfi to Kesar Anjeer Burfi, at Shree Anandhaas, we have an outstanding collection of Burfis enriched with saffron, figs, chocolate, almonds, etc.
Also, now with online services being available, you can order these amazing treats online and relish their taste from the comfort of your home.
Mawa-based sweets are another popular variety of Indian sweets made from milk and are famous for their rich, creamy texture. Mawa is made by simmering the milk until most liquid evaporates, leaving a dense, fudgy texture.
And, of course, you must have heard of the famous Indian Laddus. 
(We saw you smile!)
Did you know?
Laddus are by far the oldest Indian sweet known!
Let us agree on one plain simple truth, 
"No one can beat the taste of milk sweets at the end of an Indian feast!"
Whether you are a lover of Indian food or just looking to try something new, Indian sweet treats will never disappoint.
Milk has been a staple ingredient in Indian sweets since ancient times. 
It is used to create a wide range of sweets known for their rich, creamy texture and sweet flavour.
Hence milk sweets are an integral part of Indian cuisine & enjoyed by people of all ages on various occasions and festivals.
Let us look at some of the milk sweets that wave India's victory flag worldwide.
Rasgulla - Round ball of happiness!
Think of festivals or weddings, does the picture of these round soft & juicy balls of happiness come into mind?
Well, you are not alone!
Every Indian family has one or two rasgulla lovers; it's a given!
As most of you know, this popular milk-based sweet originated in the eastern part of the country.
It is made by kneading cottage cheese, forming small balls, and simmering them in a sugar syrup until they absorb the syrup and expand. 
Sounds yummy, isn't it?
This unique process gives the Rasgulla a soft, spongy texture and sweet flavour. 
It is one of the most relished desserts for Indians, and you would find them in almost every festival and celebration.
Rasmalai - Sweet at the top of the list!
West Bengal has given some of the best sweets, one of which is the delightful Rasmalai.
Its name itself is so appealing that you feel like pounding over it.
The fragrant cardamom and saffron used in the milk mixture give it a beautiful aroma that complements the sweetness of this amazing dessert.
And the soft and spongy cheese balls soaked in a sweetened milk mixture can become your favourite with just one bite.
Famous for their unique texture, these cheese balls are soft and porous, absorbing the sweetened milk mixture and giving it a unique flavour. 
If you haven't tried Rasmalai yet, you're missing out on one of the best Indian desserts!
It is also easily available in many Indian restaurants, so next time you are here, don't forget to hop into any restaurant and ask for Rasmalai.
Gulab Jamun - The Classic Indian Sweet!
Holi... it's Gulab Jamun..
Diwali.. it's Gulab Jamun..
Birthday... it's definitely Gulab Jamun!!
No one can stop at having just one..
This Indian sweet is loved by all age groups and for obvious reasons.
It is made by kneading milk powder, flour, and ghee into a dough, shaping them into small balls, and deep-frying until golden brown. 
These fried balls are then soaked in a sugar syrup infused with cardamom. 
If you have a sweet tooth, then this one's for you!
Kesar Peda - Golden Yellow Treat!
Each bite of this sweet will melt in your mouth! 
This Soft and creamy Kesar Peda has a distinct golden colour to it and is made from milk, sugar, and saffron. 
It is also called Doodh, Peda as its main ingredient is none other than milk!
This sweet might look simple, but one bite of it and you will be dancing on your toes.
If you are looking to try out this amazing treat, then at Shree Anandhaas, we have an entire section dedicated to milk sweets, and each of their sweets has a unique taste.
Made with good quality milk, pure ghee, and premium quality products, all of our sweets have an authentic and traditional touch to them.
Don't just believe us; try them out yourself!
Kulfi - Everyone's Favourite!
This dessert can bring back so many childhood memories for most of us.
Kesar, Mango, Pista, today Kulfi has so many different flavours that it's hard to choose one.
In simple terms, it is a frozen dessert similar to ice cream. 
It is prepared by boiling milk and reduced to a creamy consistency to which sugar and flavours such as cardamom, saffron, or pistachio are added. 
The mixture is then frozen in moulds and served once hardened.
Especially during the summer months, kids go crazy at its mention.
Also, did you hear about the popular variation of this dish called Kulfi Falooda?
Well, if not, then you are missing out big!
It is made with layers of Kulfi, rose syrup, vermicelli, and basil seeds and served as a refreshing dessert in tall glasses.
Give it a try in the summer... It tastes like heaven.
Trust us!
Shrikhand - Sweet .. Sweeter .. Sweetest!
There is nothing sweeter than this traditional Indian dessert that is rich, creamy, and flavorful. 
Made from strained yogurt, sugar, and spices, this sweet treat is a favourite in many Indian households.
Enjoy it as a dessert after dinner or even relish it during the day... Your choice; this dessert tastes amazing either way!
The combination of the sweet & tangy flavours of yogurt, the aroma of spices, and the sweetness of sugar creates a taste sensation that is hard to beat.
Kalakand - You Can Never Eat Just One!
This amazing sweet is often termed as "akin to Italian cheesecake, firmer in texture than milk cake, but softer than burfis."
In simple words, it's an easy fudge made with milk. 
This milk-based sweet is made by boiling the milk to a thick consistency in a shallow pan with sugar and then adding flavourings such as cardamom, saffron, or rose water to elevate the taste. 
For those who like less sweet dishes, this one can be your perfect partner in crime.
Kheer/ Payasam - The Omnipresent Sweet!
This scrumptious dessert is a must-try, and here's why.
It is a popular dessert made by simmering milk, rice, and sugar and flavouring it with cardamom, saffron, or nuts. 
This wholesome dessert is often served during festivals and special occasions. 
It is also known for its unique taste and aroma. The richness of milk combined with the delicate flavour of rice and the exotic spices give Kheer a distinct taste that is hard to resist.
Furthermore, Kheer is easy to prepare and requires only a handful of ingredients. It can be made in various ways, and each preparation has its own unique variation.
Whether you are a child or an adult, Kheer can satisfy your sweet cravings.
Sandesh Mithai - For Mild Sweet Tooths!
Hailing from West Bengal, Sandesh Mithai is a traditional Indian dessert that has recently gained enormous popularity. 
Wherever you are, if you travel to Bengal, you are supposed to bring back one dabba full of Sandesh mithai.... and that's an unsaid rule that all Indians follow.
It is also very nutritious and delicious, as it's made with paneer, sugar, and cardamom. 
One unique aspect of Sandesh Mithai is its texture. It is a very soft and spongy sweet dish that melts in your mouth. 
The flavour is mildly sweet with a hint of cardamom, making it a perfect dessert for individuals who do not like overly sweet desserts.
The best part of this mithai is that it contains less sugar than other desserts, making it a diabetic-friendly sweet dish, and it comes in various shapes, sizes, and flavours, making it a perfect dessert for family and friends during Indian festivals and occasions.
Its unique texture, mild sweetness, and various flavours make it a must-try.
Burfi - A Milk-Based Sweet Delicacy!
Remember when we used to visit temples, and these Burfis were our favourite prasad… Life was good, wasn't it?
This mouth-watering milk-based sweet delicacy has been loved by Indians for generations.
Made by slowly cooking milk, sugar, and ghee until they solidify into a fudgy consistency, this exquisite sweet is then flavoured with a range of exotic ingredients such as cardamom, saffron, pistachios, and almonds, to name a few. 
Having a medium-sweet taste, Burfis are not only enjoyed during festivals and celebrations in India but have now become popular worldwide. 
These are little ball-shaped sweets made from besan, sugar, khoa, and dried fruits such as coconut, pistachios, or almonds, and typically served as a sweet during festivals and celebrations.
Checkout our amazing collection of Laddus here.
As you can see, from mild to heavy sweet, India has a mithai for every taste bud, each with its unique flavour, texture, and preparation method. 
These desserts are an essential part of Indian cuisine and are enjoyed by people worldwide.
All in all, if you haven't tried Indian milk sweets yet, then you are missing out on a delightful experience. 
The next time you are looking for a dessert to indulge in, try these sweets; we are sure you won't regret it!
---