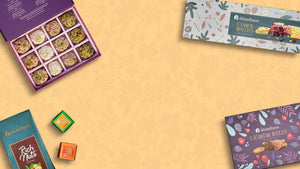 Gift With Sweetness
The joy of gifting sweets is a feeling that is shared across cultures and traditions. By giving someone a box of delicious sweets is a thoughtful act that can make their day happier and can bring a smile to their face. They are a means of spreading happiness and goodwill among friends, family, and acquaintances. So, why not send sweet boxes for gifting as a token of love to your special ones from the comfort of your home?
Delicious Combo Sweets As A Token Of Gift
Our combo packs include a variety of sweet treats, ranging from luxury laddus to cashew biscuits to Rich Nuts Special Box & Cashew Roll boxes. Our combo packs are thoughtfully chosen so that each item enhances the others and provides a well-balanced & satisfying experience for your taste buds.
Gift Delicious Sweet Boxes On Special Occasions
Since ancient times, sweets have played a significant role in human celebrations. Sweets have always been a sign of joy and abundance at social gatherings and religious festivals, as well as weddings and birthdays.
Imagine the joy and excitement on your loved one's face when they receive a beautifully packaged sweet box filled with your favourite treats! With online delivery services, you can have the sweet box delivered straight to their doorstep, making it a convenient and hassle-free gifting option. Pick their favourite sweets & send sweet boxes for gifting and make them feel special.
Order Gift Boxes From Shree Anandhaas
If you are looking for a perfect gifting option, we have you covered. Shree Anandhaas Sweets & Snacks offers gift boxes & combo gift offers. Our gifting feature is user-friendly. Check out the steps below to place your order.
Steps to follow:
Click on to Shree Anandhaas Gifting page.
Choose the gift and add it to your cart.
Fill in the required details.
Proceed with the payment.
Yes, we offer gift orders.
No, we do not charge extra for gifting.
We provide customised gifting only when we cater to large orders.
You can check out our gifting page to place your order.
CorporateOrders
We take gifting to the next level with our customized products and packaging. Celebrating a company milestone, gifts for the festive season, a token of appreciation for an employee, a special treat for a client - you name it all and we can get it done.
Order Now